13 Day The Amazon: In the Spirit of Roosevelt
Booking Dates
12/29/2022 through 12/16/2023
Travel Dates
08/01/2020 through 12/31/2023
Provider
Kensington Tours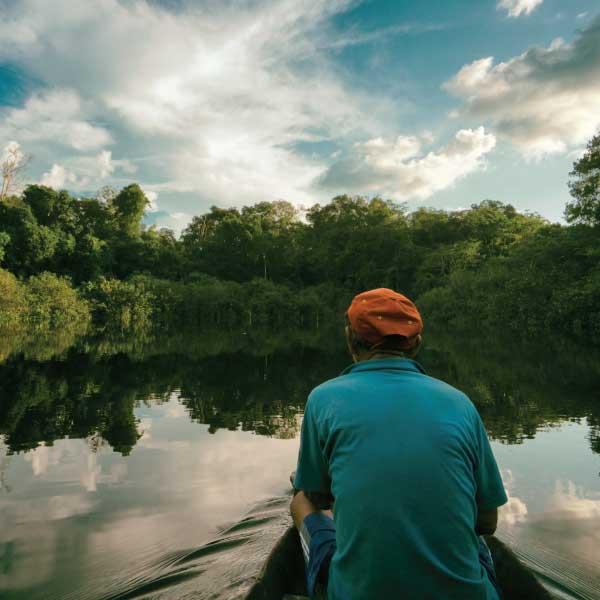 13 Day The Amazon: In the Spirit of Roosevelt

An adventure isn't an adventure if you don't come home with a story worth telling. Few dinner-party boasts could top Theodore Roosevelt's tale of his 1913-14 exploratory expedition in search of an uncharted tributary of the Brazilian Amazon. Envisioned as a fun little jaunt with some light science on the side, the two-month odyssey through the jungle claimed the lives of three men and nearly killed Roosevelt himself.
While this program does not replicate the president's voyage, the areas of the Amazon visited on the trip reveal vistas and landscapes that are very similar, and offer travelers the same spirit of exploration as well as authoritative experience. Starting in Manaus, which during the rubber boom was the richest, most sophisticated city in Brazil, get to know some of the places that Theodore Roosevelt visited himself. Marvel at the famed opera house of the Amazon, demonstrating the sophistication as well as the dreams of a short-lived, but glamorous period. After an elaborate private lunch served in one of the city's 19th-century mansions, the real adventure begins.
Awesome vistas and extraordinary wildlife encounters await on the seven-day journey downriver. As you cruise through the Anavilhanas Archipelago, the world's most extensive river island system, naturalist guides will point out the fascinating flora and fauna along the water's edge, impossibly shaped tree trunks, pink river dolphins and a staggering variety of birdlife. You'll visit a settler's home carved out of the rainforest, explore the remote and rarely visited western edge of the Rio Negro, and experience the full richness of the Amazon from the vessel's launches on a daily basis (and sometimes at night). It all wraps up in Rio de Janeiro and a chance to reflect on an extraordinary trip while relaxing on some of Brazil's most spectacular beaches.
The Explorers Club Collection by Kensington Tours is an exclusive suite of travel experiences inspired by the expeditions of the world's foremost society of scientists and adventurers. Each tailor-made Explorers Club trip connects you to the world's most fascinating people, places, and experiences with expert local guides and award-winning 24/7 service support. On-trip experts and experiences are subject to change depending on availability.
| Day | Description | View All |
| --- | --- | --- |
| Day 1 | Manaus | Details |
| Day 2 | Manaus | Details |
| Day 3 | Manaus To Brazil To Amazon | Details |
| Day 4 | Amazon | Details |
| Day 5 | Amazon | Details |
| Day 6 | Amazon | Details |
| Day 7 | Amazon | Details |
| Day 8 | Amazon | Details |
| Day 9 | Amazon To Manaus To Rio de Janeiro | Details |
| Day 10 | Rio de Janeiro | Details |
| Day 11 | Rio de Janeiro | Details |
| Day 12 | Rio de Janeiro | Details |
| Day 13 | Rio de Janeiro | Details |